Total Recall Publications, Inc. was founded in 1998. TRP has transformed from a publishing company that specialized in educational textbooks into general publishing in 2009 with works spanning from self-help to poetry; history to tourism; with several bestsellers.  TRP titles are distributed worldwide through bookstores, book wholesalers, and online resellers. TRP is currently looking for new manuscripts of all genres. Give us a call at 281-992-3131.
NEWS AND EVENTS

M.L. Hollinger's "The Adventures of Regen the Bremen" is classic science fiction with a dash of wild west flair. The story focuses on the episodic adventures of the titular Regen, a Bremen man, who is more infamous than famous. His is a lot of drug-running, smuggling, and other less-than-reputable jobs and past-times that he manages to distance himself from solely by virtue of not being, in his own words, "a violent kinda guy". He essentially is a wanderer, and these are a collection of his tales; loosely joined together by an overarching plot. To put it simply, Regen is a space cowboy and does what it takes to get by as a well-intentioned, but ultimately human, outlaw. He is aware of the inherent flaws of his own life, but bears no grievances against them. The story takes the reader through a slew of slightly-humorous encounters with a gritty but realistic look at the frontiers of space.
Blockbuster new title: Arousal
Once happily married and devoted parents, the Andersons become caught up in the lifestyle which serves to unbalance their priorities and destroy the serene, predictable life they once enjoyed. Can they get 'happily ever after' back?
From Lori:
"If you are looking for a book that you cannot put down, this is it. This addicting storyline has interesting characters and erotic scenes all wrapped up into one. It gives a personal peek into a swinger's relationship allowing you to experience their desires, jealousy and thoughts. I not only give it an A+ but also look forward to the next one!"
From Larry:
"When I was asked to be a Beta reader my first question was what type of book because I really only like to read erotica. I was told that I would like this one. I had just finished reading a three book collection and was wowed by it. So I started reading Arousal. I can tell you that basically I read slowly to put myself into the story. This book is so erotic I couldn't wait to turn the page. It is so titillating that most of the time I was in a frenzy. That was my first reading of it. I took a day off, then read it again, it was even better the second time. I'm a beta reader so I had to let the author know what I like and didn't like. So I read it one more time with that in mind. The third read was better than the first two. While reading it, I am part of the book, transported into the pages. I am sweating, breathing harder and my pulse is faster. I would read this book again, in fact, a few more times if I could. If I am allowed to compare it so the trilogy I had read before it, well they will sit on the shelf."
________________________________
FEATURED TITLES
The following are some of our featured book titles.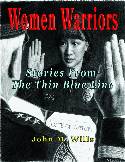 WOMEN WARRIORS: Walking the thin blue line
The latest book from JOHN WILLS. Women Warriors tells the stories of the brave women in law enforcment in their own words. From the dispatcher at the desk to the beat cop to the ATF agent each story is captivating and emotionally moving. Click here to read more.  John has also has started his own blog! Follow John through his humorous and inspiring Blog.
JOSH CARGAN AND THE CARGAN: Regen is a Bremen. By nature he loves only his pet skeen, sensual women, money, and adventure in that order.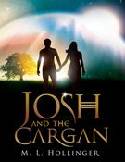 JOSH SMITH is your average teenage boy. His hormones are raging and he can't wait to have sex with a girl. He also wants to be a rock star, and has an amateur band of his own. One evening after band practice he learns his rich, eccentric great grandfather, CHARLES EVANS BASTIN, is dead.
When the will is read, Josh inherits one of Charley's ugly sculptures while his father inherits the rest of the fortune. Back home, Josh accidentally discovers his sculpture is a CARGAN, a device used for interplanetary travel as a ghostly presence called an ENTITY. He travels to the planet destination of his cargan and finds it's a very exotic place indeed.
THREE BRAND NEW FICTION TITLES ARE HERE:Set in the not too distant future and straight out of today's headlines
Author George Mavro really knows how to tell a story with his stories of human conflict. First is a story of strength, courage, and the indomitable human spirit. The invasion an brutal Nazi occupation of Greece like the rest of her conquests horrific and total. George writes this book "to keep the memory of all those that gave their lives to free the world" of Nazi tyranny and keep us free.
OPERATION MEDINA SERIES: It is a great read that will have you one the edge of your seat as to what will happen next.  It just goes to show you that no one in the military should be lulled into a false sense of security and can never afford to be lackadaisical when it comes to protecting our country and our allies.  Yet, his writing shows the human side of our military men and how they can become venerable like everyone else.
______________
Congratulations to Bob Doerr, winner of the Eric Hoffer Award. His book was nominated for the da Vinci Eye. No One Else to Kill is still on track for a category prize, including the Hoffer Grand Prize. The da Vinci Eye is an additional distinction, awarded to books with outstanding cover art. (See past winners on-line.) Approximately six books receive this award each year. The list of da Vinci Eye finalists is below. Regardless of the judges determination, your book at the very least will carry the distinction of da Vinci Eye Finalist. The da Vinci Eye short list will be announced prior to the winners' announcement. You will be notified via this e-mail of all events concerning the award.
______________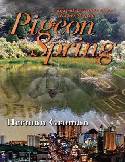 PIGEON SPRING is an exciting modern day western mystery with a mystical twist, where the reader follows retired FBI Agent and now casino security director Matt Steel, from the glamour and scams at a Las Vegas casino to the beauty and grit of Nevada's rugged gold country and his dealings with the plentiful scoundrels found where-ever money is to be made.
_________________________________________________________________________
ADDITIONAL BESTSELLERS!