Cracked
Timeless Topics of nature, courage and endurance
In poem after poem, Alice Shapiro exhibits her gift for linguistic invention, an attribute which has always distinguished real poets from those who just practice poetry.
Alice Shapiro
More Details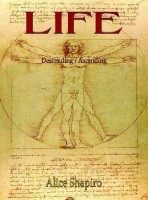 Life – Descending/Ascending
From a clandestine attempt at theft to a final acceptance of life's convoluted and challenging path, in a burst of "Song," Life: Descending/Ascending covers much ground with thistle and wildflowers. Shapiro's second collection of poems is a rare volume that is both celebratory and somberly thought-provoking.
Alice Shapiro
More Details

Updating…