The Battle Scared Journey
I wrote The Battle Scared Journey for several reasons, to help me face, understand and eventually conquer my life and my fears and to explain to others who have also suffered that you are neither alone or bereft of a chance to come to terms with your issues and to add a self help part in order to explain little of the hurdles and obstacles one might face on your own journey of discovery and ultimately, happiness.
Kim Wheeler
More Details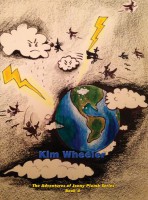 The Adventures of Johnny Plumb
Jonny Plumbs jaw dropping adventures continue in rip roaring fashion with his latest book, Jonny Plumb and the Battle for earth. Where again Jonny and all his friends set out to try and save the earth from the evil clutches of the devils only daughter Deadsheda and her Hench woman the even uglier and revolting Dances with Death who has a strange aversion to custard, I wonder why??
More Details
The Adventures of Johnny Plumb
This is Book 3 in the Jonny Plumb and the Sombrero Galaxy Series. This new story takes Jonny and all his friends on even more amazing, hair-raising, dastardly and devilish adventures with all his Sea Life friends, and not forgetting, Legend and Legion, Jonny's two most loyal Rottweiler companions.
More Details
The Adventures of Jonny Plumb Series
The Adventures of Jonny Plumb is the fantastical and funny story of a young orphan boy suddenly endowed with very special powers. Jonny's life changes dramatically when he's taken into foster care by the wealthy and extremely beautiful Lady Kathleen Hunter — and comes under the vigilant eye of Nanny Noo.
More Details
Adventures of Johnny Plumb
Jonny Plumb and the Silver Space Ship is Book 2 in The Adventures of Jonny Plumb Series and continues the incredible adventures of Jonny Plumb and the Golden Globe. The stunning Silver Flying Arrow Space Ship is the fastest machine ever built and it takes Jonny on all kinds of jaw-dropping, deep-space adventures.
Read in amazement as Jonny Plumb continues to battle and capture the evil Gnud Repeek and then return him to the prison planet of Suproc to be tried for all his dastardly crimes against humanity.
More Details
Jonny's incredible adventures continue with the next installment of the six set series called Jonny Plumb and the Queen of Iceland. Jonny and his two faithful companions and best friends Legion and Legend travel to Iceland in order to find the eleven singing Runes which means he has to walk along winding paths, cross a raging river, swim in another river, walk over a volcanic field, then, climb a huge glacier, find a ginormous cave behind a huge scary looking waterfall, meet the snake with the lisp and stammer, then find the hidden cave, and then find the Queen of Iceland, and sing her this song in either English or Icelandic or both, while dodging the Angkas, the Hairy Growlers, the Greedy Gobblers and a huge sea monster called the Aspidoceleon, or Mincing Mary to her friends…Then he has to meet the Icelandic Yule lads, the strangest and weirdest family ever. Once Jonny has found all the hidden Runes he then has to meet the Queen of Iceland but everything isn't as simple as it seems. Jonny has to gather many sacred objects from around the world and then travel deep into space to a land called Dark Shadow where he has to find and remove the Elixir of life and return home safely in order to build a sacred machine, but what machine and what does it do?
So join Jonny, his faithful dogs Legend and Legion and his entire family and friends in this next rip roaring laugh out very loud jaw dropping ride of a lifetime adventure and meet some very funny characters along the way.
More Details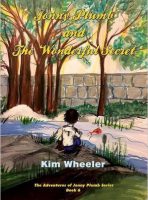 "Jonny Plumb and the Wonderful Secret" by Kim Wheeler.
The Adventures of Jonny Plumb Series Book Six
This adventure for Jonny Plumb finds himself in all kinds of trouble when he is firstly accused of giving a footballer a bad case of Floppy Leg. Who then had to be carried into his home on a stretcher.
More Details

Updating…