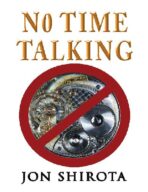 No Time Talking follows this unlikely pair as they discover that good friends, though hard to come by, are for forever, first appearances can be deceiving and the designs of fate are hard to circumvent.
George Tsukayama hates his job as an IRS Agent. So, while he is auditing stuffy, prejudiced, old haoles, he dreams of becoming the next great American novelist. He finds inspiration in his friends; a fellow gruff World War II Nisei (Japanese-American) vet who runs a laundromat, and the Mexican college student who sells discarded flowers and parks cars to pay for classes. When he is assigned to audit a beautiful haole woman, who speaks his ancestral language better than he, he is warily captivated by her warmth and love of all things Japanese.
Christine Barrington misses Kobe, Japan. That's why her garden is the style of the Japanese gardens she grew up with, and maintains her Japanese language by cajoling her best friend Carole, a Japanese American, to practice with her. She paints to ease the pain of the death of her parents and the loss of her childhood friend in Kobe. She longs to paint a portrait of the striking young man who parks her car and sells flowers to her. Above all, she wants desperately to befriend the IRS agent sent to audit her, a handsome nihonjin from Hawaii who reminds her of her first love, Shoichi.

Updating...