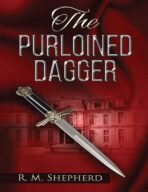 As teenagers, Sir William Throck-Morton and Sir Percy Monmouth were friends. Now, over fifteen years later, they negotiate an arranged marriage between William's daughter Avrill and Percy's son Cedric. The marriage contract will be signed when the Monmouths arrive. William plans to wear his treasured family dagger during the handfasting ceremony to celebrate the occasion.
When the families meet, the sparks between Avrill and Cedric are not about love. The next morning William's dagger has disappeared from a locked office. Battle-hardened Sheriff James is called to investigate and quickly arrests the valet. As new facts are revealed, the valet is released, leaving the real criminal in doubt. Lady Ellene, William's sister, sets out to solve the mystery and joins forces with Sheriff James. As they investigate, secrets about the Throck-Morton and Monmouth families are exposed, and one mishap after another threatens the safety of both families.
This is a locked-room mystery occurring against the background of political and religious strife during the Elizabethan era. The story provides twists and turns and a surprise ending.

Updating...