This book contains a collection of Chassidic "Mayses" (i.e., short stories that are really anecdotes, parables and fable-like gems of wit and wisdom) from the Eighteenth and Nineteenth Century Chassidic Masters. Each story was carefully selected because it was either spiritually uplift-ing, mysteriously mystical or poignantly meaningful. These stories capture the often complex and various paths that Rebbes and their Chassidim chose to live, survive, and solve their daily struggles.
Books on Jewish conversion line the shelves of many libraries and bookstores. Why another? A major reason is the approach to the topic, an approach which is multi-dimensional and non-judgmental. This is indeed reflected in examples given in the work where opposing opinions and viewpoints are offered by each author. Added to this is the emphasis on the concept and the progression of the conversion process rather than details and minutiae of a specific movement's requirements. Lastly, there are topics more often than not unseen in other books of this nature, e.g., beards, tattoos, x-mas trees. All in all, this is an important go-to book for a fresh and clear approach to an oftentimes complex subject. A reader said: "I have been a practicing Jew all my life. I was still able to learn a great deal from the 50 questions posed by the authors. If that were not enough, the art work was magnificent and truly enhanced each section. This book is totally appropriate for anyone who truly wants a deeper understanding of the Jewish faith." Through unique storytelling and insightful answers to 50 timeless questions, this book makes learning complex Jewish values and Judaism easy and fun for readers of all ages. A delightful guide, full of inspiration and information for those who wish to learn and become authentically Jewish by choice in the modern world.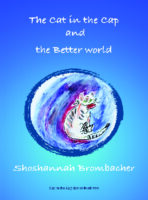 Shoshannah Brombacher's books about an adorable smart cat with a cap and a little grocery store contain unique heartwarming stories about a family of cats and their friends who visited the home of the artist from the wild and some stayed with her. In the stories, the cats learn the true meaning of courage, being inventive, and the importance of friendship and working together.
Each one of these humorous tales has its own individual adventure and life lesson. They are packed with trials, mayhem, suspense, mystery, action, and adventure. With everyday situations that kids and adults must face in the real world, like waking up timely in the morning, but also how to deal with a pandemic. That will interest readers of all ages.
Now throw in a little fantasy and you have charming tales that will enthrall juvenile audiences. The perfect Story-time book series for both boys and girls ages 4 – 8 Grades: K – 3. But there are many puns and word-plays, winks and hints to literature, history, art, and politics that most kids might miss but will bring a smile on the faces of adults.
Parents, teachers, librarians, and kids will appreciate the familiar situations, the worldwide geography, and appropriate language for Ages 4 – 8 Grades: K – 3.
These illustrated story books are sure to please the read-aloud crowd.
The Cat in the Cap™ Series of children books are unique in the adventure genre.

Updating…